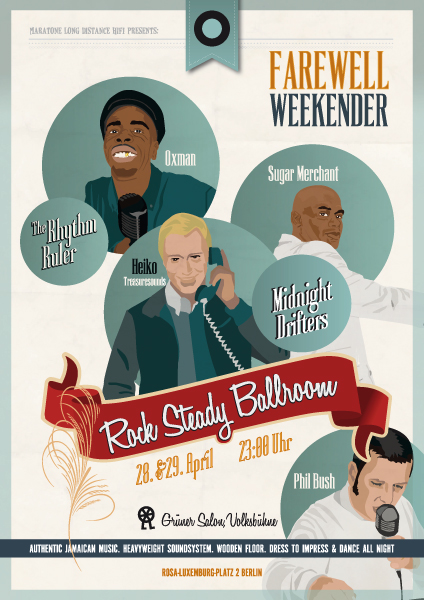 we have been very lucky finding a beautiful venue where we could even setup our Maratone Long Distance Hifi in 2013. since then we have provided you with original jamaican music played by selectors from all over the world. due to unpleasant reasons affecting more than just the club we have to leave this amazing place by the time of this weekender.
we invited some of our favourite guest selectors of the last 4 years and are proud to present a 1st class lineup. it will be our pleasure to welcome you for a last dance in april 2017.
28./29.4.2017 – 23:30
Grüner Salon, Rosa-Luxemburg-Platz 2, 10178 Berlin
Selectors
Friday:
Sugar Merchant (UK)
Born as a kid of jamaican immigrants in Manchester, Sugar Merchant got in touch with music at very early age. His father was hosting blues dances every two weeks and Sugar was listening to records on his Blaupunkt Gram daily. At some point he joined the vivid soundsystem scene of Manchester and discoverd his talent as a Singjay. He got a lot of reputation when singing for Maverick sound from Leeds, was even spotted by Saxon Sound System and released some tunes in the 80s. In 1991 he formed the band Audioweb. After splitting up in 1999 the band reformed last year and got some major attention, selling out many venues.
Some of you may have witnessed the guest appearance of Sugar Merchant at the Rock Steady Ballroom in June 2015, others may know him from the mic at Sounds & Pressure events in London. He is not only "the greatest allrounder" as he sometimes calls himself, but a deadly selector with some of the hottest Ska records known in his box. And wait until he touches the mic…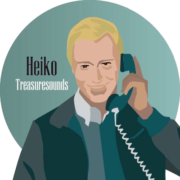 Hei-ko Treasuresounds (Hamburg)
Heiko is the youngest of our guest selectors for the weekender, but he is already part of the subcultural Reggae scene of Hamburg since the mid 90s. He started collecting Rocksteady & Reggae records in 2001 and as there were no regular allnighters for that kind of music he started his own do, Treasure Sounds in 2003. It wasn't easy finding a venue for a Skinhead at that time, but once he found one, Treasure Sounds developed from a small event to Germanys busiest dance over the years and can now be found at Hafenklang, a great location at the Hamburg Harbour. He retired as the organizer earlier this year and handed it over to Count Crophead, the driving force of the young generation of serious Reggae selectors in town.
Heiko has been playing at allnighters and weekenders all over Germany and Europe, his box is always packed with solid gold. If you don't find him behind the decks you'll spot him on the dancefloor and you can tell: he loves the jamaican oldies. He was the very first guest selector at the Rock Steady Ballroom in January 2014 an we are happy to have him back for the Farewell Weekender.
The Rhythm Ruler
Saturday:
Oxman (Dub Vendor, UK)
Oxman was born and raised in London where his mother was holding Blues Dances every weekend. He was already allowed to play some records from the guest selectors boxes when they wanted to dance as a schoolboy. No surprise he slipped into the soundsystem scene a few years later and started playing on the Cala-Hi Soundsystem in South London. He got his own sound in the 80s but other than the big ones he did not hundreds or thousands of pounds in boxes and dubplates but was rather playing his steadily growing collection for the local community through his Dill-Ox International Soundsystem.
Nowadays you can find him behind the counters of Dubvendor and Lionvibes, two of the best addresses to buy jamaican music on vinyl in London. He's also working with Soul Jazz Records and has been busy as MC and selector for their roadshow. You probably know his excellent 'Soho Skank' show on Soho Radio, if not you should tune in for one of the next editions.
Oxman played his Berlin premiere last year at the Rock Steady Ballroom and we're glad to have him back for the Farewell Weekender. If you didn't get the chance to see him yet be prepared for a great entertainer with a box full of great tunes.
Phil Bush (Sounds & Pressure, UK)

Phil Bush is from the UK as our other international guest selectors and got into Jamaican music as a teen during the Two-Tone and Mod revival era. He always had a general passion for music of most genres and pretty eclectic tastes compared to most of his peers, but throughout the last 35 years, the love of 60's Jamaican music has always been there. The DJing started during the 80's at some of his scooter club events in Kent, but was nothing serious at that time. When moving to Glasgow in the 90's Phil was still part of the scene but had become pretty bored of going to Skinhead/Scooter/Mod nights and hearing the same tunes played on bad sound systems. He started a night with his friend Iain Mckinley (of Glasgow Spy Kids fame) called 'Sounds & Pressure'. Renting decks and playing on a crap club PA wasn't satisfying, so he built his own soundsystem. Since then Sounds & Pressure Lo Fi has set the highest standards on the scene both musically and sonically, supporting other people's events, running it's own events and nowadays even headlining european Reggae festivals and weekenders.
In the history of soundsystems it is common that a whole team is running a sound of Sounds & Pressures size, several selectors, deejays, engineers, and operators run things. Phil is planning, building and running the sound mostly on his own and he's great in all disciplines, you'll struggle to find a soundman who can play tune like him on a sound like Sounds & Pressure Lo Fi. We had the honour to present Phil with his valve driven soundsystem at the Vintage Reggae Night in YAAM last summer and still remember his first time DJing in Berlin at the Rock Steady Ballroom in 2013. It's great to have him here one more time and you definitely shouldn't miss it.
Panza
authentic jamaican music. heavyweight soundsystem. wooden floor.
dress to impress & dance all night.
https://originalreggae.de/wp-content/uploads/2017/10/nothing.png
0
0
the rhythm ruler
https://originalreggae.de/wp-content/uploads/2017/10/nothing.png
the rhythm ruler
2017-04-29 23:30:23
2020-09-19 10:59:36
28./29.4.2017 - Rock Steady Ballroom Farewell Weekender